ABLE was honored to be recognized as a 2017 Top New Product by AccountingToday. Here's what they had to say:
"Competition between firms, and between firms and other service providers, is only going to grow more intense in the coming years, which is why you need to start building a repeatable process for building your business. The Growth Partnership's ABLE can be the cornerstone of that effort, offering firms an online platform with a dashboard that quickly show where you stand with all your clients, prospects and referral relationships, and tools to help you deepen your engagement with all of them."
The CRM Tool for Accountants that
Strengthens Relationships

&

Fuels Growth

At the end of the day, people grow firms. Not marketing plans. Not branding campaigns. People.

If you're looking to achieve sustainable, profitable growth for your accounting firm, ABLE is your toolbox, your trainer, your personal coach and accountability dashboard. ABLE helps facilitate more meaningful relationships with the people who matter most.
"Most firms don't need a full-fledged CRM program to grow their firm. ABLE offers all of the critical features that we were looking for to track our prospects and pipeline, allow staff to be held accountable for their growth goals, and easily keep in touch with their important clients and referral sources while building their reputation as subject matter experts."
Lisa Dunnigan
Principal and CIO
Olsen Thielen & Co., Ltd.
ABLE Supports the Four Fundamentals of Growth
Proactively Manage Your Key Relationships
Twenty percent of your relationships can drive eighty percent of your results. For most practitioners, this can be distilled to a handful of relationships that determine their eventual success.
12 Key Clients
10 Active Referral Sources
14 Coveted Prospects
First, determine which contacts deserve your utmost attention. Next, invest in these relationships in order to gain a deeper understanding of their needs and wants. Now, use ABLE to track your progress and keep your relationship dashboards green.
Build Your Personal Brand
ABLE allows you to deliver the right piece of content, to the right person, at exactly the right time. Build your personal brand and position yourself as a thought-leader by consistently sharing compelling content with your most important relationships.
Practitioners who develop their personal brands command higher fees and better position themselves as a trusted advisor. Clients are willing to pay a premium when you apply your experience and expertise against their specific situation.
Practice Collaboratively
Successful firms practice interdependently, and as a result, broaden their service offering and command higher fees.
As client relationships become more complex, it is essential that the right hand knows what the left hand is doing. When this happens, the result is team synergy—a state where 1+1=10 (or 100 or 1,000).
ABLE is all the CRM your firm will ever need, offering a lower price-point and a higher adoption rate when compared with other CRM systems.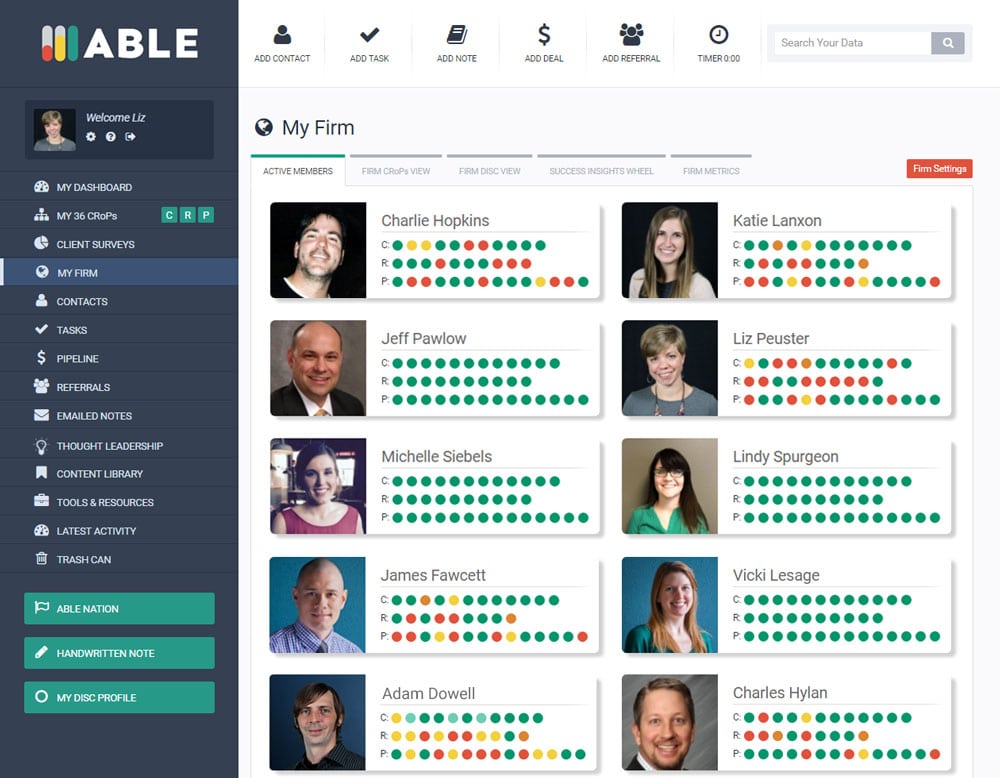 Be AccountABLE
ABLE provides a series of dashboards and reports that keeps you focused on the activities that must be done to achieve sustainable, profitable growth. The transparency of the open system promotes a culture of peer-to-peer accountability that in turn drives both action and results.
Since most practitioners only have a limited amount of time to devote to business development, it is imperative they do the right things within that small window of opportunity. ABLE helps each user determine what the appropriate activity is at a particular point in time, and collectively keeps everyone focused on what really matters.
Is your accounting firm achieving sustainable, profitable growth?
Learn how ABLE can help.